Flange Ball Valves / Fittings
Flange Ball Valves / Fittings
Features
Quick and easy assembly. No pipe or sealant necessary.
Positive seals.
Easy on/off hose connections.
360 degree orientation.
Valves and fittings are manufactured from glass re-inforced polypropylene for strength and durability — will never rust or corrode.
Recommended Operating Pressure for Valves:
100 PSI @ 0°F
125 PSI @ 70°F
70 PSI @ 150°F
Valves
Self-aligning ball rotates freely against Teflon seats.
Unique body-to-flange design allows for low torque on/off operation.
Viton O-ring stem seal and O-ring body seal.
Available with blue Norwesco handle or blank yellow handle.
Pressure rated at 125 PSI @ 70° F.
All valves tested by air pressure under water.
Valves
Description
Blue Handle
Part Number
1″ Full Port Flange x Flange
63027
2″ Full Port Compact Flange x Flange
63122
3″ Full Port Flange x Flange
63124
Stainless Steel
Worm Screw Hose Clamps For Flange Fittings
Description
Part Number
1″
62932
2″
62933
3″
62934
EPDM Flange GasketFor Flange Fittings
Description
Part Number
1″
62935
2″
61574
3″
61575
Recommended Operating Pressure for Fittings:
120 PSI @ 0°F
150 PSI @ 70°F
90 PSI @ 150°F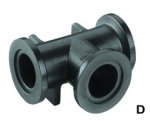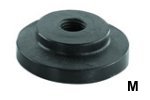 1″ Fittings
Item Code
Description
Part Number
D
1″ Flange Tee
62912
E
1″ Flange Elbow
62913
F
1″ Flange Coupling
62914
G
1″ Flange x 3/4″ MPT
63098
G
1″ Flange x 1 1/4″ MPT
63099
G
1″ Flange x 1″ MPT
62915
H
1″ Flange x 1″ FPT
62916
I
1″ Flange x 3/4″ HB
62917
I
1″ Flange x 1″ HB
62918
I
1″ Flange x 1 1/4″ HB
62919
J
1″ Flange x 3/4″ HB 90
62920
J
1″ Flange x 1″ HB 90
62921
J
1″ Flange x 1 1/4″ HB 90
62922
K
1″ Flange Cross
62923
L
1″ Flange Plug
62924
M
1″ Flange Plug with 1/4″ FPT
62925
2″ Fittings
Item Code
Description
Part Number
D
2″ Flange Tee
63100
E
2″ Flange Elbow
63101
F
2″ Flange Coupling
63102
G
2″ Flange x 2″ MPT
63103
H
2″ Flange x 2″ FPT
63104
I
2″ Flange x 2″ HB
63106
I
2″ Flange x 1 1/2″ HB
63105
J
2″ Flange x 1 1/2″ HB 90
63107
J
2″ Flange x 2″ HB 90
63108
K
2″ Flange Cross
63109
L
2″ Flange Plug
63110
N
2″ Flange x 1″ Flange Reducing Coupling
62927
O
2″ Flange x 2″ Male Coupler
62926
3″ Fittings
Item Code
Description
Part Number
D
3″ Flange Tee
63111
E
3″ Flange Elbow
63112
F
3″ Flange Coupling
63113
G
3″ Flange x 3″ MPT
63114
I
3″ Flange x 2″ HB
63115
I
3″ Flange x 3″ HB
63116
J
3″ Flange x 2″ HB 90
63117
J
3″ Flange x 3″ HB 90
63118
K
3″ Flange Cross
63119
L
3″ Flange Plug
63120
N
3″ Flange x 2″ Flange Reducing Coupling
62928
O
3″ Flange x 3″ Male Coupler
63121
Physical/Sale Address
1111 Gilman Ave.
Marietta Ohio 45750
Phone: 740-568-4636
Fax: 740-568-4635
Mailing/Accounting Address
600 Greene Street
Marietta Ohio 45750
Phone: N/A
Fax: 740-373-5287
Office Hours
Mon-Fri: 8:00 AM-5:00 PM
Sat-Sun: Closed